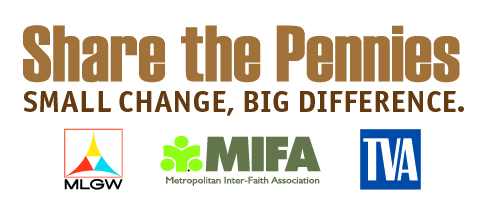 Dear valued customer:
People like you in the Memphis area are known for being some of the most generous in America. Whenever there's a need, residents from all over Shelby County come together. Many members of our community have a need that you may never have considered. Those with the lowest income have a high "energy burden" — meaning they use a higher percentage of their resources to pay for home energy costs, like basic heating and cooling. This is due to a combination of poverty and energy-inefficient homes — even though MLGW provides the lowest combined utility rates in the nation.
Older homes weren't designed to be energy efficient, and homeowners who can't afford simple maintenance are unable to reduce wasted energy, which leads to higher utility bills, making it even harder to maintain their homes. This is especially true for homeowners who are elderly or disabled.
Share the Pennies, sponsored by MLGW and MIFA, is designed to help break that cycle for homeowners, lowering their energy burden. Through this program, MLGW customers have their bills rounded up to the nearest dollar. The difference is used to provide grants for low-income customers to make basic energy efficiency improvements (e.g., fixing broken windows, replacing insulation, or repairing a furnace), reducing wasted energy. Though most customers give only about 50 cents per month, it adds up to be life-changing for those who receive the help. Share the Pennies does not provide bill assistance. These are project-based energy-efficiency grants for residents who own their homes.
Earlier this year, a group of MLGW customers, community organizations and the Memphis City Council urged MLGW to change Share the Pennies from an opt-in program — meaning customers must contact MLGW to enroll — to an opt-out program, which instead lets customers contact MLGW if they choose not to participate. The MLGW Board of Commissioners unanimously approved the change on March 22, 2017.

What does this mean for you? Beginning Jan. 1, 2018, MLGW will automatically enroll all residential customers into the Share the Pennies program. Utility bills will be rounded up to the next dollar. For example, if your bill is $80.50, it would be rounded up to $81, and 50 cents would go to the Share the Pennies fund. The average customer currently gives around $6 per year to Share the Pennies. The amount is hardly noticeable to most of us, but our combined donations will change many lives in our community.

This change will not occur until Jan. 1, 2018. You may opt out any time before or after that date. This program is completely voluntary. Customers who opt out after Jan. 1 will be refunded for up to six months of the pennies they shared.

To opt out of the Share the Pennies enrollment:
• Click the Opt In/Out button at the top of this page, or visit mlgw.com/share and submit the opt-out form.
• Download the MLGW app on your mobile device: ow.ly/SL0TB (Android) and ow.ly/LpE9Y (iOS)
• Call our Customer Care Center at 544-6549 (MLGW), press 1-2-6-2 and follow the prompts, or speak with a Service Advisor.
• Visit an MLGW community office.
For answers to frequent questions about Share the Pennies, visit our Share the Pennies FAQ page.

Sincerely,
Jerry R. Collins Jr.
MLGW President and CEO