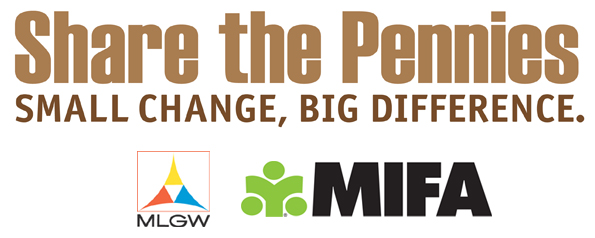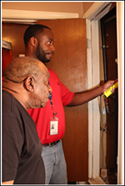 Share t
he Pennies

is a voluntary round-up program sponsored by MIFA (Metropolitan Inter-Faith Association) and MLGW

. The program rounds your monthly utility bill up to the next whole dollar amount and then donates the difference to Project CARE. For example: if your utility bill is $113.80 it will be rounded up to $114.00 and a .20 donation will be added to the Project CARE fund.

Project CARE is an energy-efficiency program that assists elderly and disabled customers with minor weatherization repairs. Qualified Project CARE recipients receive up to $1,500 to make repairs such as replacing broken windows, fixing gas or water leaks, replacing AC condensers or furnaces, upgrading attic insulation and other energy-efficiency measures. By donating through Share the Pennies, you make Project CARE possible.
How to Help
Click below to sign up for Share the Pennies or to make a one-time donation.
You can also sign up by calling MLGW Customer Relations at (901) 528-4887
or by downloading and returning an
enrollment form



See the Message and Spread the Word