|
Residential
|
Commercial
|
Builders
|
Community
|
|
|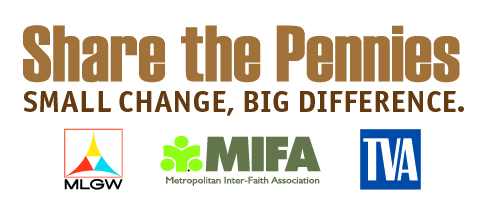 Share the Pennies is a bill round-up program that provides grants to low-income homeowners to make weatherization and energy efficiency repairs in their homes. Example: If your utility bill is $113.50, it's rounded up to $114 and 50 cents is donated to MIFA to fund the Share the Pennies Weatherization Assistance Program (see below).
All customers are enrolled in the Share the Pennies round-up program unless they choose not to participate. Here's how to opt out:
If you have an MLGW My Account
Click the Opt In/Out button above, log in to your account and then scroll to the bottom and click the Share the Pennies icon. Click the "Update" button and then move the slider to "No" and click "Submit" if you do not wish to donate to the program.
If you DO NOT have an MLGW My Account
Call MLGW Customer Care at 901-544-6549 and ask to be removed from the Share the Pennies program
Or speak with an Advisor at any MLGW Community Office
The Share the Pennies Weatherization Assistance Program provides grants to low-income homeowners for weatherization improvements.
Eligible repairs include:
Attic Insulation
Attic Stairs and Door Replacement
Broken Window Repair or Replacement
Exterior Door Repair or Replacement
Weather Stripping around Doors or Windows
Repair of Water Leaks
Repair of Gas Leaks
Exterior or Interior Wall Penetrations
Interior Floor Penetrations (homes not on a slab)
HVAC Duct Repair or Replacement
HVAC Repair or Replacement
Water Heater Repair or Replacement
Installation of Smoke Detectors
Installation of CO Detectors (gas appliances)
Eligibility guidelines:
Must be 18 years or older to apply
Must be a homeowner who lives in Shelby County
Home must be listed in your name
Must live in the home to be repaired
Must be current on previous year's City and County property taxes for the home you live in
Must meet income guidelines based on Federal Poverty levels
MLGW utility account must be in your name, with no bad debt or diversion of services within the last seven years
Visit mifa.org/sharethepennies for more information.