|
Residential
|
Commercial
|
Builders
|
Community
|
|
|

School Enrichment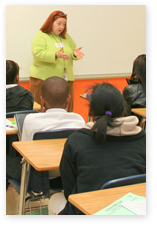 Memphis Light, Gas and Water believes that a sound educational system is the foundation for a healthy community, and the company offers a number of programs to support students and teachers in being successful.


Speakers Bureau
Looking for a speaker for your classroom, community group, church or civic organization? MLGW representatives are available to speak on a variety of utility related topics such energy conservation, safety, careers and more. For the best availability of speakers, advance requests are highly recommended.
Adopt-a-School Program
MLGW partners with Craigmont Middle School (a Memphis Shelby County School) to provide/support student academic enrichment activities and programs, to recognize students for academic achievements, and to donate for National Teacher Appreciation Week. Students are encouraged to consider careers in the utility industry.


Energy Teaching Kits
It is important that energy consumers be educated at an early age on the importance of wise energy usage so that they adopt conservation habits. As part of our educational outreach, MLGW offers free energy education materials and companion teacher guides.
Weekend Academy
Weekend Academy is an educational outreach program originally initiated by the Tennessee Valley Authority in 1996. It is now being re-launched as the Memphis STEM Weekend Academy . While the mission of improving oral and written communications, thinking, reasoning and problem solving skills remains, this objective is met through a focus on STEM (science, technology, engineering & math) content.

Summer Youth Initiatives
Memphis Light, Gas and Water Division works in collaboration with the Mayor's City of Memphis Ambassadors Program to provide summer internships for graduating seniors. Students work up to 30 hours per week for a maximum of 120 hours over a six week period. Internships are offered in various areas of MLGW, allowing students to gain valuable work experiences and mentoring by seasoned professionals. Students are encouraged to consider careers in the utility industry


Co-Ops and Internships
MLGW offers full-time, paid cooperative education and internship positions to qualified candidates. Students usually alternate between work and school for a minimum of three to a maximum of six periods to gain hand-on experience while working on challenging projects, networking with professionals and learning from some of the most knowledgeable people in the utility industry. During this time, students must maintain the scholastic standards established by MLGW and the educational institution, plus maintain a good work record to remain in the program.