|
Residential
|
Commercial
|
Builders
|
Community
|
|
|

Plug-In Memphis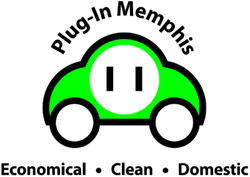 ---
---
MLGW is supporting the Electric Vehicle EVolution!
The electric vehicle (EV) industry has experienced numerous starts, when it seemed that EVs were on the brink of becoming significant players in the transportation market, only to have consumer and manufacturer interest wane. The 2020s are changing all that!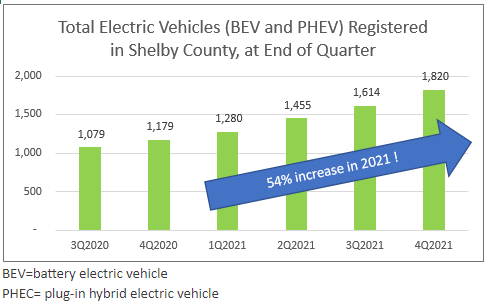 As of year-end 2021, there are 1,820 total electric vehicles (battery as well as plug-in electric hybrids) registered in Shelby County, which is a 54% annual increase.

Auto manufacturers — especially in the light-duty car, truck and SUV segment — have announced billions of dollars in investments to re-tool their factories to increase the number and variety of EVs available. Today's EVs include compact cars, mid-range sedans, luxury sports cars, nimble cross-overs, spacious SUVs and equipped pick-ups. In fact, the best-selling pick-up truck in the United States now is available as an all-electric model! New and used EVs are available at price points to meet diverse buyer needs. These are all signs that EVs have arrived as major players in the automotive market, with sales expected to skyrocket this decade.

Members of Drive Electric Tennessee (DET) — an organization that includes the Tennessee Department of Environment and Conservation (TDEC), TVA , numerous utility companies (including MLGW), auto manufacturers, EV charging companies and others interested in the EV field — have joined together with the common goal of reaching 200,000 EVs on Tennessee roads by 2028.

To achieve that goal, DET members are focusing on initial obstacles such as consumer awareness of EV benefits and charging infrastructure availability.
TDEC and TVA announced grants to create a TN Fast Charging Corridor with DC Fast Chargers available approximately every 50 miles along interstates and major highway across the state.

TVA has created the new video series, In Charge: Life with an Electric Vehicle, which shows ordinary drivers in the region demonstrating the speed and agility of today's EVs, while discussing cost savings, cargo capacity, charging and other features that make zero-emissions EVs not only cool technology but viable options for your next vehicle purchase.

DET has designed a special Drive Electric license plate, available to drivers of any personal automobile registered in Tennessee.

MLGW hosted a 90-minute virtual forum, Plugging into Electric Vehicles, on 8/26/2021. Representatives from MLGW, TVA and DET discussed EV technology, environmental benefits, operating costs (including reduced maintenance expenses), charging infrastructure and other details about the rapidly evolving EV market. Attendees' questions were answered as well. Watch the recording and learn more about EVs.

MLGW is working with local EV owners and enthusiasts to create a Drive Electric Tennessee chapter in the area to increase awareness through communications and events, including future Ride & Drive opportunities.

MLGW is assisting fleet owners in planning for EV fleet adoption, including sharing available grant opportunities and handling new service requests to accommodate onsite EV charging infrastructure.

MLGW hosts a public-access Level 2 charger on the second floor of its Beale Street Landing parking garage, located at the corner of South Front Street and Dr. M.L.K. Jr. Avenue; helped Shelby Farms Park install Level 2 chargers in 2012 through a grant from TVA and the Electric Power Research Institute (EPRI); and assisted dozens of businesses in installing Level 2 chargers during the federally-funded EV Project about a decade ago.

MLGW is aiding companies in siting Level 2 and DC Fast Chargers for public access charging. Although an estimated 85% of personal EV charging occurs at home (often through the existing 120-volt outlet in garage or carport), there are more than 100 public-access charging stations in Shelby County. You can find charging locations on numerous websites such as PlugShare and ChargeHub as well as mobile apps, many mapping websites — and the onboard display screen in most EVs.

Plug-In Electric Vehicles and Charging Infrastructure are Here
In 2006, the Memphis Light, Gas and Water Board of Commissioners and the Memphis City Council passed resolutions of support for the Plug-In Memphis Partners Campaign.
Plug-In Memphis and other Plug-In partners across the United States have met the goal of helping build a market for plug-in electric vehicles (PEVs)-includes plug-in hybrid electric and all-electric vehicles. Through a collaborative effort with utilities, manufacturers, the technical and environmental communities and legislators, Partners have demonstrated to automakers that the market exists today for PEVs.
These partnerships have contributed to the significant growth of PEVs world-wide. As of 2017, over two million PEVs are on the road globally, with more than 500,000 registered in the United States alone [1].

Further, currently there are over 31 models of PEVs on the market with more in development [2]. Charging infrastructure is on pace.

Plug-In Partnerships with related legislation have been the policy support mechanisms that continue to drive the progression of electric vehicle technologies and infrastructures. These efforts complement MLGW's vision to be the trusted provider of exceptional customer value in the communities we are privileged to serve.
The MLGW Plug-In Memphis website is focused on providing trusted information about electric vehicle (EV) technologies and their relationship to our company and community. EVs and their charging infrastructures are not just the wave of the future. They are here-and-now transportation alternatives that impact the environment and utility industry.
Sources:
1. U.S. Department of Energy. (2017, September). National plug-in electric vehicle infrastructure analysis.
2. U.S. Department of Energy. (2016, March). Challenges and opportunities of grid modernization and electric transportation.