About
/
Green Power Switch

Make the Green Power Switch!


With
Green Power Switch
, you have the power to change the way electricity is generated throughout the region, reducing emissions and saving natural resources. If you wish to buy green power, Green Power Switch is just for you. If you wish to generate green power,
Green Power Providers
provides incentives.

Interested in buying green power?
The Tennessee Valley Authority (TVA), in partnership with MLGW and other electric utilities, has created
Green Power Switch
, a green energy pricing program designed to fund new sources of electric generation. By converting the energy in the sun, wind and methane gas, TVA now generates a portion of our electricity from renewable resources. This clean, green energy gets mixed into the overall electric supply, reducing the need for traditional generation. Currently, green power accounts for far less than 1% of the electricity TVA generates but, as more customers enroll, that percentage will grow. Currently, more than 12,000 households and businesses across the Tennessee Valley participate.
While renewable energy resources are free, the facilities designed to capture their energy and generate electricity are far more expensive to construct than traditional plants. To encourage investment in these costlyfacilities, environmentally conscious customers like you can voice your support by purchasing green power for $4 per block. This cost appears as a line item on your monthly MLGW bill, in addition to your normal electric charges.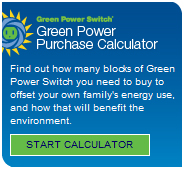 Green Power Switch Statistics as of April 30, 2012
| | | |
| --- | --- | --- |
| Customer Type | # of Customers | Blocks Purchased |
| MLGW Residential Customers | 855 | 1,894 |
| MLGW Non-residential Customers | 21 | 737 |
| Total | 876 | 2,631 |
Interested in generating renewable power at your home or business?
TVA's Green Power Providers program is available for MLGW's residential and general power (commercial and industrial) customers who wish to generate renewable power onsite and sell 100% to TVA.
Green Power Providers Guidelines contains TVA program requirements, rules and incentive information. Start here

Green Power Providers has a 2014 program cap of 10 MW. Due to strong interest in 2013, TVA has implemented a capacity reservation request period, from 1/15/2014 through 2/17/2014. A Green Power Providers Capacity Reservation Request form should be submitted to MLGW during that period.

If requests received by TVA total more than 10 MW, a random selection process will be used to select 10 MW of projects for the full application process. A 30% waitlist will also be activated, in case any approved projects are cancelled.

If requests received by TVA during this period do not meet or exceed 10 MW, then customers may continue to submit Green Power Providers Capacity Reservation Request forms after 2/17/2014 until the 10 MW plus 30% waitlist is filled. Check TVA's Green Power Providers Dashboard to see how much generation availability still exists in the current calendar year.


TVA changes have resulted in updates to several MLGW and TVA forms. Please make sure you use the new, revised forms for all project submittals. (If you have old forms stored on your computer, it is recommended you delete them.)

Additional information:
Federal Tax Credits are applicable for solar generation equipment installed through 2016. The credit is equal to 30% of the installed system cost.

Neither MLGW nor TVA provides financing for renewable generation. Businesses and certain non-profits may qualify for low-interest loans through the Energy Efficiency Loan program at Pathway Lending. Visit www.pathwaylending.org for details about this program, which uses public and private funds to encourage investments in energy efficiency and renewable generation.

For more information, visit TVA's Green Power Providers website.
Current Generation Partners pilot participants
Nearly 1,500 households, businesses and organizations in the Tennessee Valley participated in Green Power Providers' predecessor, the Generation Partners pilot. TVA has provided an opportunity for these participants to gain a 10-year extension to their payment term, during which they would earn the retail rate for all generation. After returning those amendatory documents to TVA, MLGW and TVA will execute and return documents to the participants.
Interested in generating more than 50 kW of renewable power?
TVA offers the Renewable Standard Offer (RSO) for renewable generation projects with capacity greater than 50 kW up to 20 MW. In 2014, there will be 100 MW of capacity offered. TVA also offers the Solar Solutions Initiative (SSI) overlay for solar projects of greater than 50 kW and up to 1 MW. For details on RSO and SSI , visit TVA's
website
. You must submit an Application for Interconnection to MLGW for discussions on interconnection feasibility prior to submitting your RSO application to TVA.