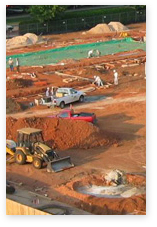 MLGW's Commercial and Residential Engineering Department handles the utility needs for homebuilders, developers and commercial contractors. The department manages all customer utility requests from the project's conception through construction to provide reliable, cost-effective utility design.
Each area listed below is distinctively organized to meet all of our customers' design requests.
Click on links to find information and online forms that will help assist you with the utility request process.
Online Resource:


Brochures and Supporting Documents:


Schedule of Charges:

Service Policy Manual:
Events
Thanksgiving Holiday
MLGW offices closed
Thanksgiving Holiday
MLGW offices closed
MLGW Board Meeting
MLGW Admin. building @ 1:00 p.m.