|
Residential
|
Commercial
|
Builders
|
Community
|
|
|

A-Blazing Race 2018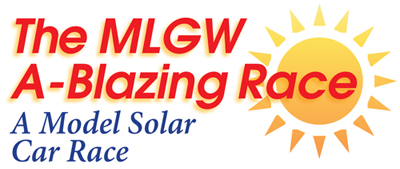 Location: University of Memphis
Herff College of Engineering
Friday, October 19, 2018
REGISTRATION HAS CLOSED FOR THE 2018 RACE
The object of the MLGW A-BLAZING MODEL SOLAR CAR RACE is to design and build a vehicle that is powered strictly by solar power. Students participating will compete in races with other students from their age group. This year's event will be divided into two (2) divisions, grades 6-8 and grades 9-12. Teams can consist of four to eight people. Schools will be limited to a maximum of 2 teams.

Trophies will be given for Speed (1st, 2nd and 3rd place), Design (Aesthetic Award), and Notebook (Documentation of design and build) categories.

An engineering workshop is scheduled for Tuesday, September 22, 2018 from 9 a.m. to Noon.

For more information about the A-Blazing Race contact Beverly Perkins at (901) 528-7673 or commrelations@mlgw.org.