|
Residential
|
Commercial
|
Builders
|
Community
|
|
|

Budget Book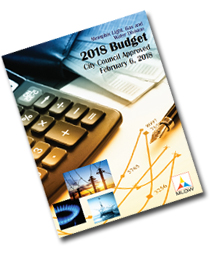 Memphis Light, Gas and Water is the nation's largest three-service municipal utility, serving nearly 421,000 customers. Since 1939, MLGW has met the utility needs of Memphis and Shelby County residents by delivering reliable and affordable electricity, natural gas and water service.

We are pleased to submit the 2018 Budget of Memphis Light, Gas and Water Division (MLGW) as required by Memphis City Ordinance #3509. This Budget has been prepared in compliance with this ordinance, which requires conformity to the Federal Energy Regulatory Commission (FERC), the regulations of any other applicable regulatory body, and in accordance with the provisions of the bond resolutions approved by the Memphis City Council.


Memphis Light, Gas and Water Division's accounting and financial practices conform with generally accepted accounting principles (GAAP), under the rules and regulations of the Governmental Accounting Standards Board (GASB) and the Financial Accounting Standards Board (FASB).

Memphis Light, Gas and Water Division was created by an amendment to the City Charter, adopted March 9, 1939. MLGW operates three separate utilities, as divisions, providing electricity and gas in the City and Shelby County. Water service is provided by MLGW in the City and, together with other municipal systems, in Shelby County. Each division operates as a separate entity for accounting and financial purposes pursuant to the City Charter.

For economic reasons, activities common to all three divisions are administered jointly and costs are prorated among the divisions. The 2018 operating and capital budgets are developed simultaneously and are presented together in a combined budget. In this manner, MLGW is able to accomplish personnel planning and allocate resources to e the achievement of each strategic area of focus.

• 2018 Budget Book