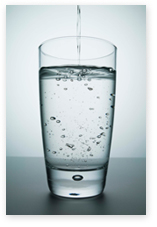 In order to protect the public's health and drinking water quality, Memphis Light, Gas and Water has established a Cross Connection Control Program

. This program is a cooperative effort between the city and county plumbing departments, health officials, the water purveyor (MLGW) and consumers. This program establishes requirements for residential, commercial and industrial customers that may have systems or processes considered hazardous to MLGW's potable water system.


What is a Cross Connection?
A Cross Connection is any actual or potential connection between your drinking water and any non-potable source that results in contamination of the potable water system.


What is Backflow?
Backflow occurs when the water in your pipes goes in the opposite direction of normal flow. There are two conditions that cause backflow:
Backpressure - when the pressure in your pipes is greater then the pressure in the water distribution system.

How Does MLGW Protect the Potable Water System?
MLGW has a Cross Connection Program that consists of maintaining a database of all residences and businesses connected to our water distribution system that are required to have backflow prevention devices. MLGW requires reduced pressure backflow preventer (RP) devices be tested annually per requirements of TDEC

and the Memphis & Shelby County Cross Connection Board. Any residential, commercial or industrial customer that refuses to comply and have the devices tested is subject to having the water shut off until the devices are in compliance. A reconnect fee will be added to the MLGW utility bill if the water is cut-off due to cross connection non-compliance.


Contact MLGW Cross Connection:
Telephone: (901) 528-7757
Facsimile: (901) 528-4658
Email: crossconnection@mlgw.org
Mail: P.O. Box 430, Memphis, TN 38101
Street Address: 220 S. Main Street, Memphis, TN 38103.

Office hours are Monday thru Friday from 6:30 a.m. to 3:00 p.m.