|
Residential
|
Commercial
|
Builders
|
Community
|
|
|

MLGW News Release
Sign up for MLGW's Text Alert Notifications
December 30, 2022
In the wake of the recent winter storm, some customers asked: Does MLGW have a system that allows it to send automated texts with critical information? The answer is, "Yes." During the storm, we used text alerts to communicate to 86,940 of our customers. Here's a sample of the text alerts we sent: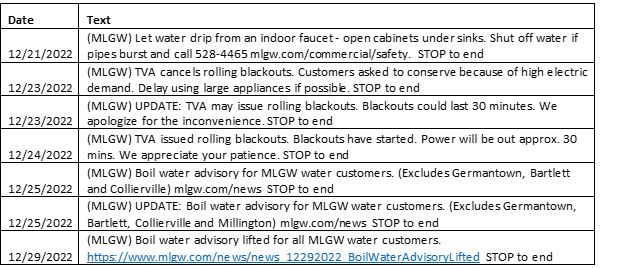 Since we serve more than 440,000 residential and commercial customers, we hope to get more customers signed up going into 2023. You can sign up for text alerts here:
https://www.mlgw.com/textalerts
In the meantime, we will look at the timing of automated alerts and whether what we sent was helpful – we will improve areas where our timing could be better and where we could share better information.
MLGW is the largest three-service public power utility in the nation, serving more than 440,000 customers in Memphis and Shelby County.