|
Residential
|
Commercial
|
Builders
|
Community
|
|
|

MLGW News Release
MLGW Average Residential Bills the Nation's Lowest: Based on Annual Survey of About 50 Utilities
April 10, 2013
Mem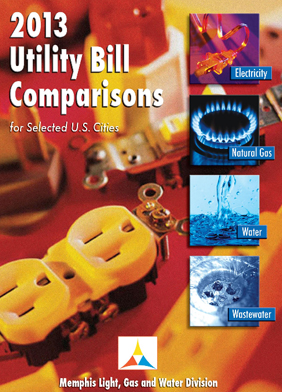 phis Light, Gas and Water customers pay the lowest combined bill for electricity, natural gas, water and wastewater in the U.S., according to a 2013 survey of about 50 utilities across the nation. The survey provides a snapshot of average utility bills and rates effective January 2, 2013. Full results can be found at www.mlgw.com/ratesurvey.
The average residential bill of $234.40 represents a $40.28 decrease compared to $274.69 last year. In the latest survey, Memphis was followed by Springfield, Mo. ($266.33), Reno, NV ($281.97), Omaha, NE ($283.53) and Columbus, OH ($293.95). Nashville, Chattanooga and Knoxville ranked 12th, 15th and 21st respectively.
The annual survey is conducted by MLGW and is based on 1000 kilowatt-hours of electricity, 200 hundred cubic feet (CCF) of natural gas, 10 CCF of water and 10 CCF of wastewater, which is the usage of a typical MLGW customer.
"We are always striving to provide value for customers and our low rates reflect that commitment," said MLGW President and CEO Jerry R. Collins, Jr.
Having the lowest combined bill in the nation is not the only good news for MLGW customers. The numbers above reflect a 14.6 percent decrease in the MLGW customer's average bill, the lowest amount since 2004. The decrease is attributable to a warmer winter as well as lower natural gas prices.
With spring here and summer approaching, now is a good time to prepare your home to be energy efficient. Combining a few steps such as adding insulation, caulking windows and installing a programmable thermostat can add up to big savings. Here are a few more tips:

Check your air conditioner's filter every time you receive your utility bill.

Set the thermostat at 78 degrees or higher for the most energy efficient operation. Each degree below this setting adds 6 percent to your cooling costs.

Use fans to move the air inside your home. This gives the sensation that it is five degrees cooler than the actual temperature.

Learn more at http://www.mlgw.com/residential/energysavingtools