|
Residential
|
Commercial
|
Builders
|
Community
|
|
|

MLGW News Release
2015 MLGW Art Contest Winners Announced
March 16, 2016
Three winners of the 2015 Energy Awareness Month Poster Contest were recognized and rewarded for their entries at today's MLGW Board of Commissioners meeting.
MLGW's Energy Awareness Month Poster Contest (held each October) is designed to give students throughout Shelby County the opportunity to learn about saving energy. The 2015 contest focused on water conservation and each student was asked to depict their very own interpretation of water savings in art form.
Students in grades K – 12, attending any school (public, private, charter or home school) in Memphis and Shelby County is eligible to enter. Judging covered three categories: elementary school (grades K – 5), middle school (grades 6 – 8) and high school (grades 9 – 12).
The entries were judged on their ability to clearly and creatively communicate the theme "saving water." Each of the winners, along with their teacher, received a $125 gift certificate to the Art Center.
The winners are:
Elementary School Winner
Student: Ethan Brown, 5th Grade
Title of Entry: "Save Water"
School: Peabody Elementary School
Art Teacher: Shelley Momany
Middle School Winner
Student: Rupali Ahir, 7th Grade
Title of Entry: "You Waste It, You Lose it"
School: Snowden Middle School
Art Teacher: Hal Harmon
High School Winner
Student: Shadarious Grandberry, 10th Grade
Title of Entry: "Stop the Waste"
School: Douglass High School
Art Teacher: Wilda Chitman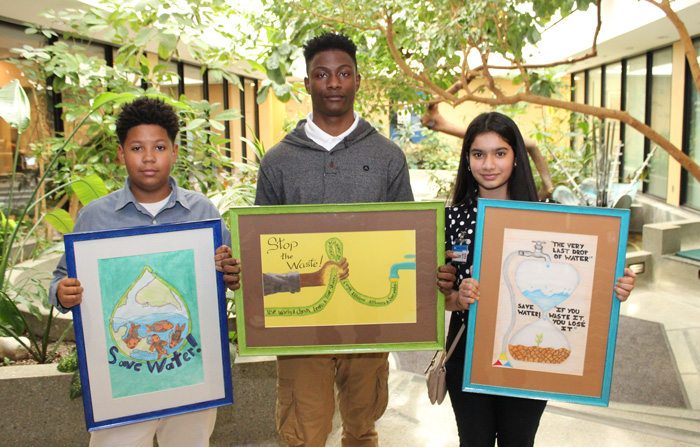 2015 art contest winners Ethan Brown, Shadarious Grandberry and Rupali Ahir