|
Residential
|
Commercial
|
Builders
|
Community
|
|
|

My Account

My Account



MLGW's popular My Account website includes explore usage tools that help customers with smart meters track their electricity, natural gas and water use—and costs—online. The information is uploaded after the smart meters' daily read and contains up to two years of history for detailed analysis. (Commercial customers will have access to smart meter data in My Account by end of 2022.

With multiple graphs and bill-to-date projections, participants see how their electricity, natural gas and water usage changes throughout the month, providing greater information for better control over when and how utilities are used.

To access smart meter information and graphs, participants login to My Account at www.mlgw.com using their personal username and password. (Not a My Account user? Register today at www.mlgw.com You'll need a copy of your bill to enter the 16-digit MLGW account number and 6-digit My Account Access code, shown in the blue column on page 1.)


Curious about your home's smart meter data? Here are some common questions and answers to help you get started.
When can I see my data online?
Once a smart meter is installed, residential customers must wait until their next MLGW bill is produced before smart meter data is available online. Since electric, gas and water smart meters are installed by separate crews, likely in different weeks, you may need to wait for multiple billing periods before all meter data is available online. (Non-residential customers do not have access to smart meter data yet. Watch for information as that feature is added by the end of 2022.)

How can I quickly see smart meter information?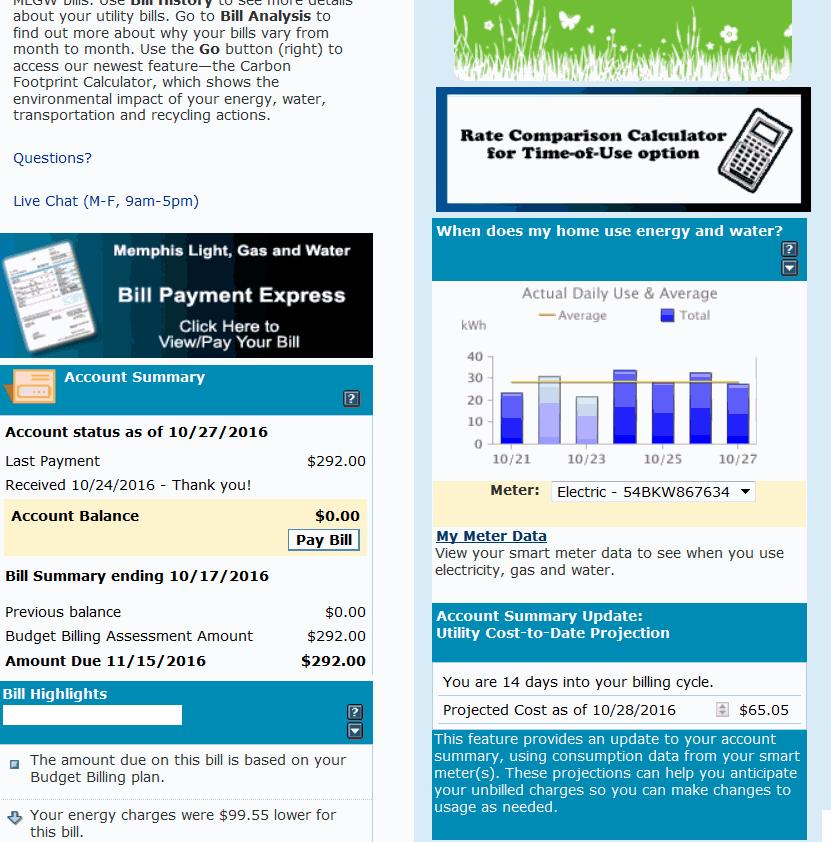 Login to My Account and look at the bar graph under the section titled "When does my home use energy and water?" on the My Account dashboard. This graph shows the daily total for the last seven days, plus an average. The lighter color bars represent weekends and the darker color bars indicate weekdays. Use the "meter" pulldown to change between electric, gas and water views (depending on which services you receive from MLGW).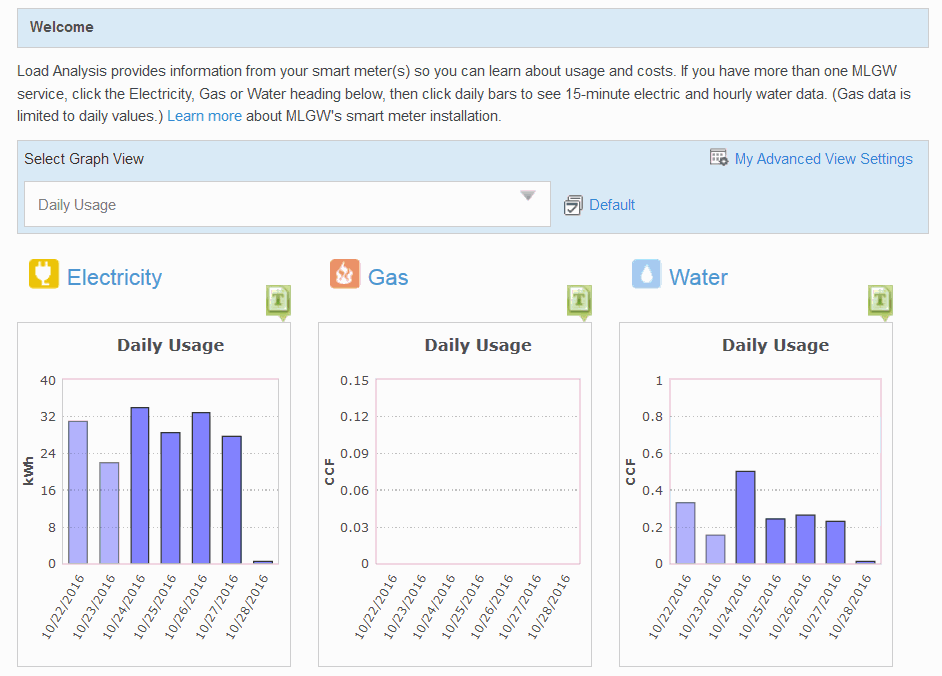 Click the link labeled "My Meter Data" on the My Account dashboard. You will land on a screen titled Load Analysis, containing a 7-day graph for each MLGW-metered service. Click the graph heading—Electric, Gas or Water—to expand the view. . (Note: As shown here, customers who only use gas for heating will not see any current data in the Gas graph except during heating season. You can still click the Gas heading to access old interval data.)


How much detail can I see for electricity use?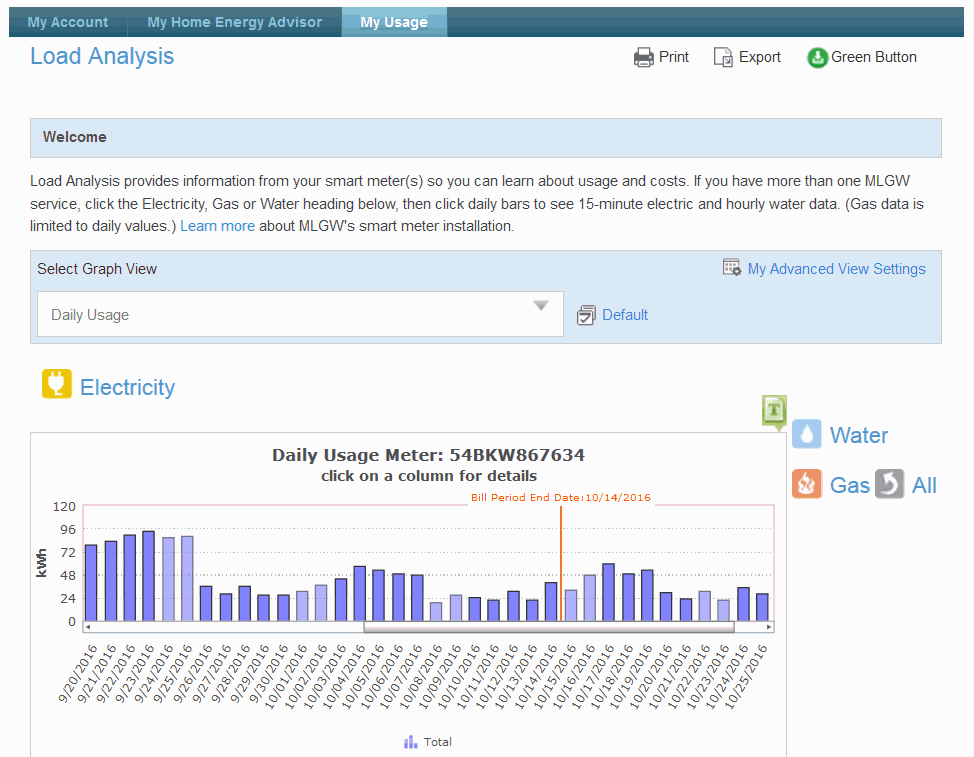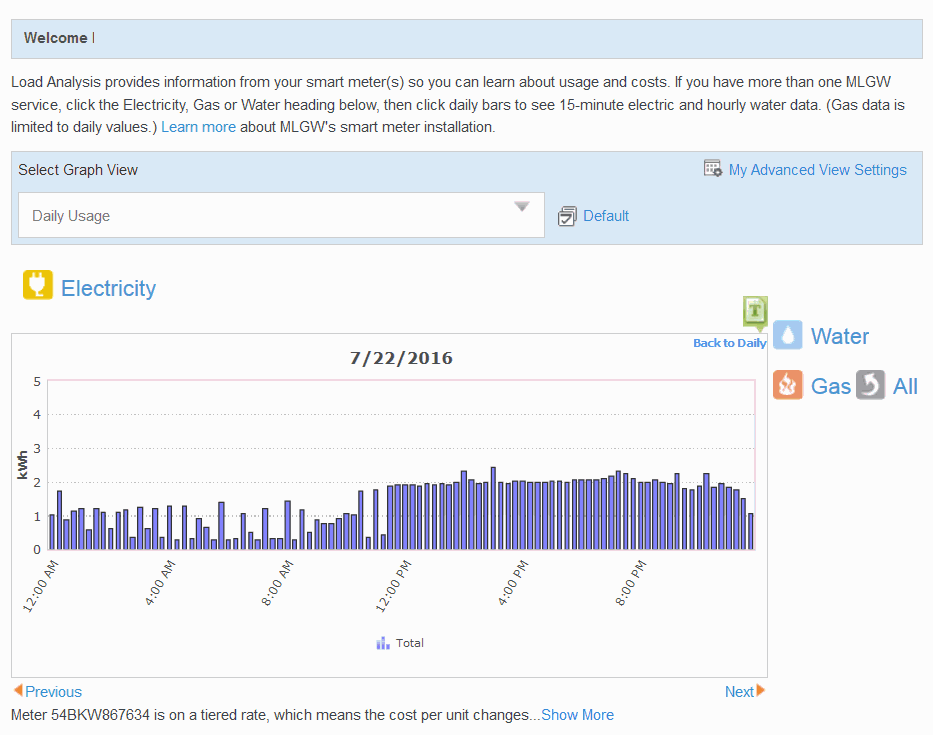 You can view electricity use data for 15-minute periods, updated daily. From the Load Analysis page, click on the Electric graph heading to expand to the 30-day view, then click on any daily bar to see that day's info in 15-minute increments. Click "back to daily" to return to the daily view and select another date. Use the horizontal scroll bar to view additional days.

How much detail can I see for natural gas use?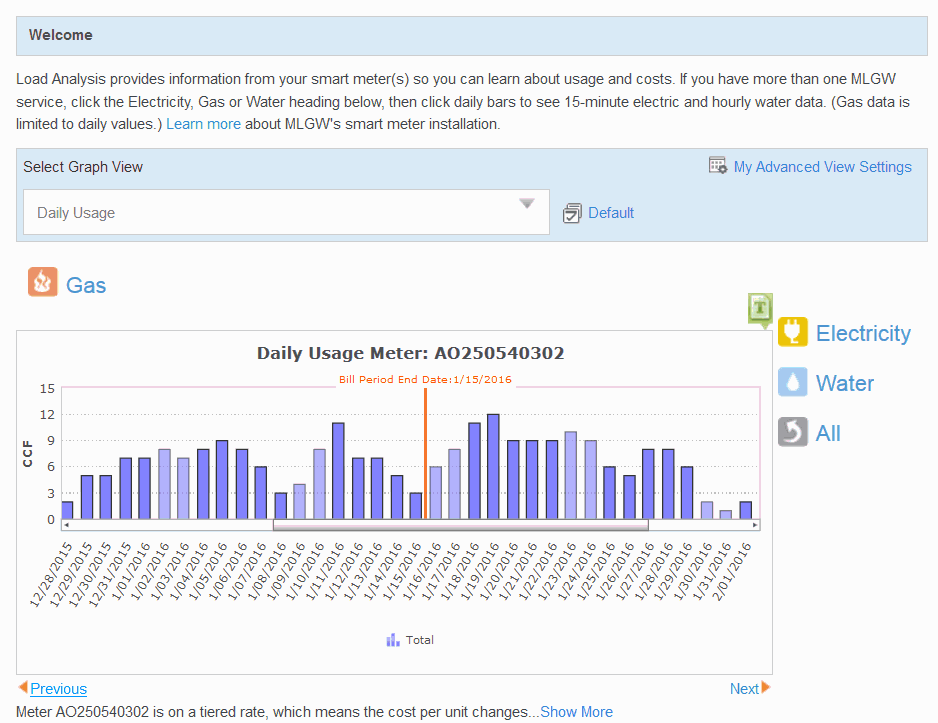 Gas information is limited to a daily total, as the smart meters record whole units of consumption. A unit, or hundred cubic foot (CCF), takes a while to use so hourly data is not as useful. (If you click on a daily bar, you will get a "no data available to display" error message.) Use the horizontal scroll bar to view additional days.

How much detail can I see for water use?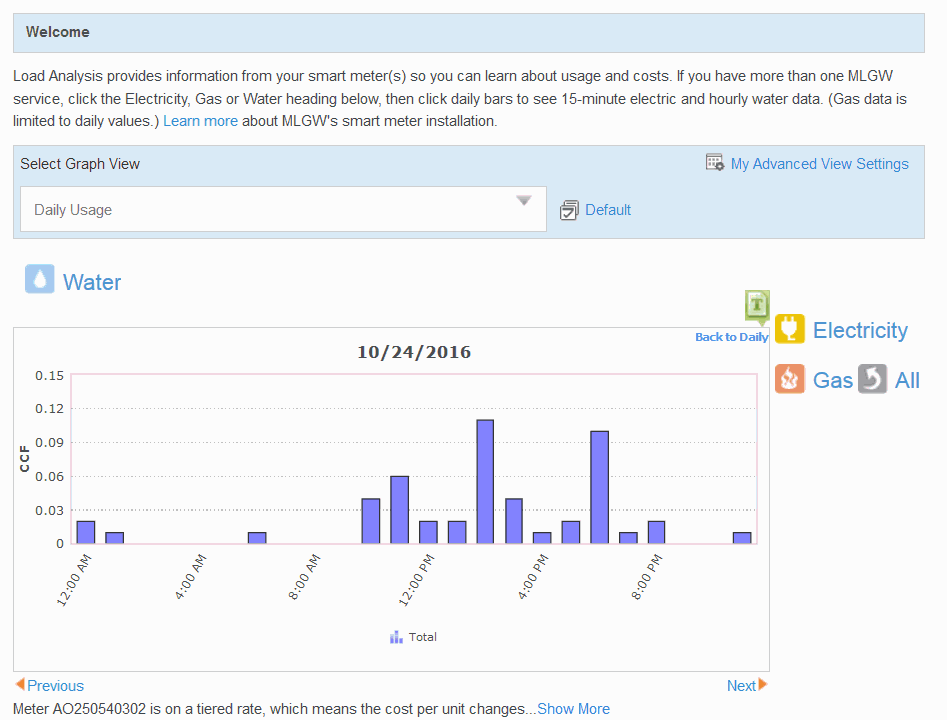 You can view water use in hourly periods, updated daily. From the Load Analysis page, click on the Water graph heading to expand to the 30-day view, then click on any daily bar to see that day's info for each hour. Click "back to daily" to return to the daily view and select another date. Use the horizontal scroll bar to view additional days. One unit of water, measured in hundred cubic foot (CCF) units, equals 748 gallons, so you'll often see decimals in water usage data.

I'm a data geek. Can I get even more information?
Yes! You can use the "Select Graph View" pulldown in the gray box above the graph to select alternative views, including:

►Cumulative Usage—great for checking to see if you've used more than 500 kWh of electricity in the billing period (which means you pay more for each additional kWh) or if you've used less than 100 CCF of natural gas (which means you pay less for each additional CCF).

►Daily Cost—great for seeing the cost of electricity based on your daily use.

►Cumulative Cost—great for seeing the incremental cost each day as your billing period continues.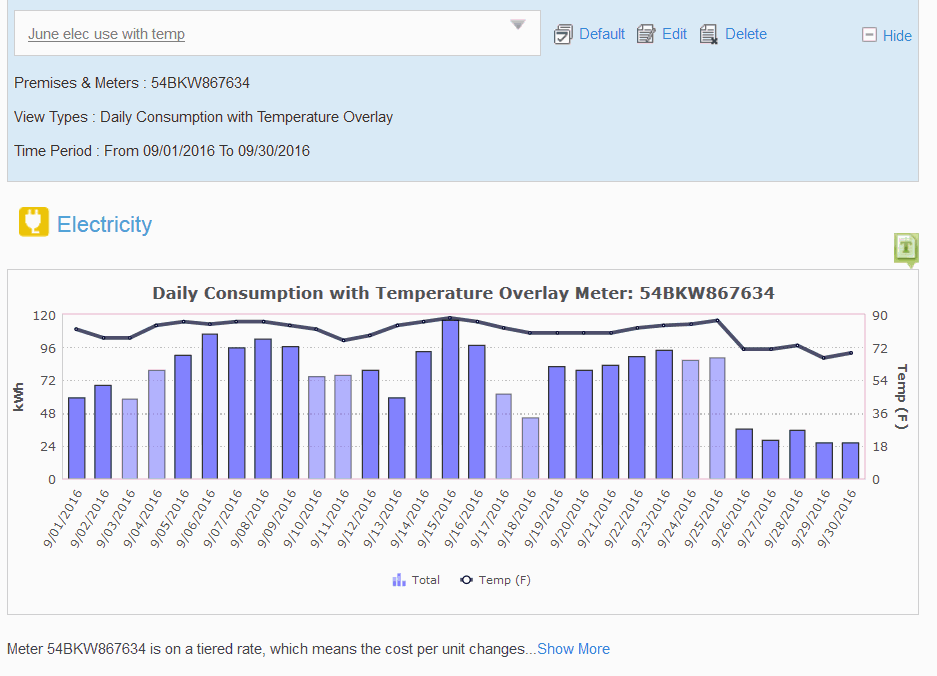 ►Usage with Temperature—great to see the impact that temperatures have on energy and water use. During winter, expect to see a strong correlation between temp and gas use (or electric use, if you have electric heat). During Summer, expect to see strong relationships between temperatures and electric use (for air conditioning) and outdoor water use (if you garden or water the lawn).

►Selected Day Compared to Another Selected Day—great for comparing similar days of month or week, especially if you have energy-intensive routines. (If you hosted Thanksgiving dinner, try comparing electric use on 11/23/2017 with another Thursday.)

If you want to geek out even more, click the My Advanced View Settings to explore more options. You also can download your smart meter data using the icons near the top of the page. "Export' provides a CSV file suitable for spreadsheet software, while "Green Button" provides an XML file for sharing with third-parties.
Can my smart meter data help me determine my upcoming utility costs?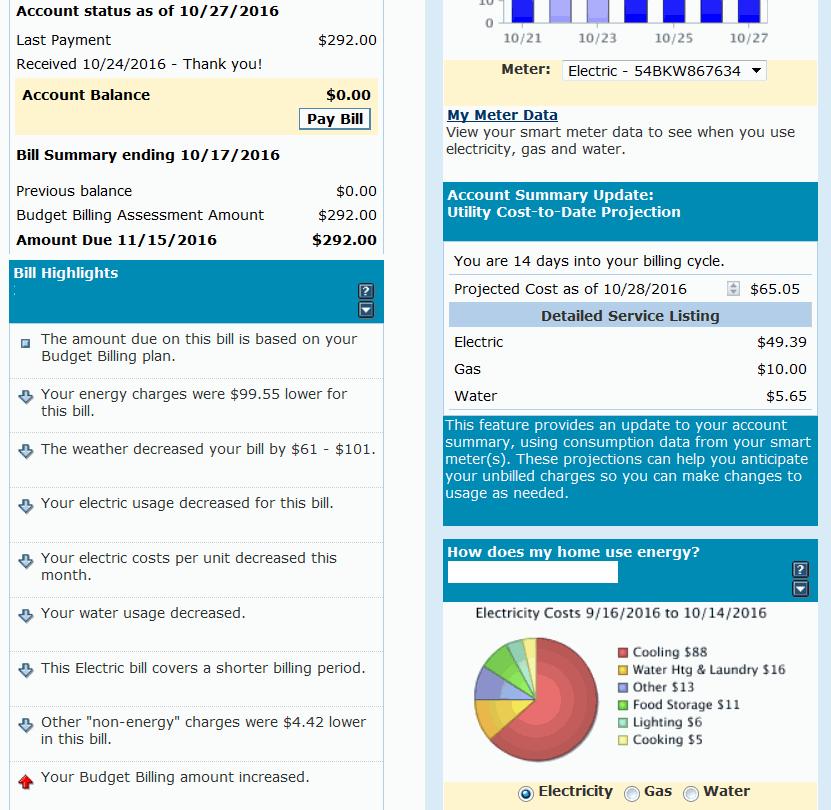 Yes! On the My Account dashboard, right below the bar graph, there's a new section titled "Account Summary Update: Utility Cost-to-Date Projection." This section uses your smart meter data to show how much your current electricity, gas and water use will cost.


Note that the information is for your MLGW-metered services only; it does not include other charges that appear on your MLGW bill. This section needs a minimum amount of meter data to function, so there will be limited info at the start of each new billing period.

Can my smart meter data help me figure out what my utility costs may be at the end of the billing period?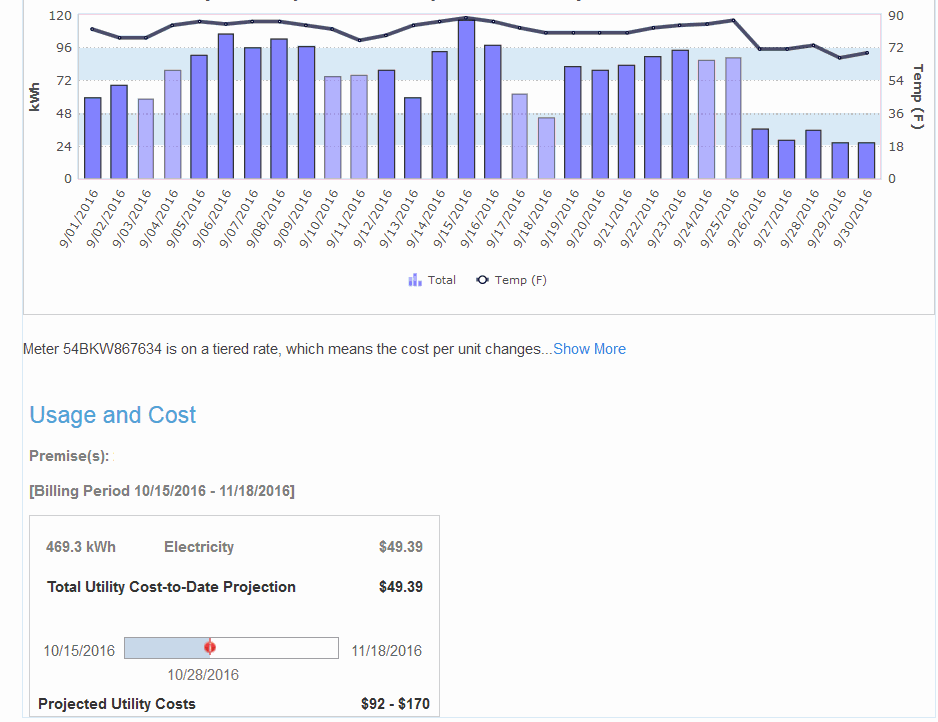 Yes. At the bottom of the Load Analysis page, there's a section called "Usage and Cost." This tool shows your usage—updated daily—as well as the cumulative cost. A bar graph at the bottom shows where you are in your billing cycle and a projected cost range.

Can every customer access this information for their account?
No, these tools in My Account require smart meters to record the time-stamped data. Residential customers can see this information once they receive their first MLGW bill after each smart meter is installed. Similar information will be available for businesses and organizations by the end of 2022.
How can this information help me save money?
The web tools turn smart meter data into information, which then gives you the opportunity to take action. As you use the website to learn about your home's usage patterns, you will discover opportunities to save. Some examples:

►Is usage as high when the house is empty as it is when people are home? Then there are opportunities to turn equipment off and change thermostat settings.

For example, one customer shared this experience: I replaced our programmable thermostat a few months after receiving an electric smart meter. In looking at the graph in My Account, I discovered that my electricity use started to increase around 4:00 each afternoon. It was Summer, and no one is home during the day, so I knew something unusual was happening. After several days of seeing this, I checked the owner's manual for my new thermostat and discovered it has a "recovery" setting, which was different from my old model. While I thought I had set the thermostat to come on at 5:30 to start cooling the house toward 77 degrees, the thermostat was actually set to have the house at 77 degrees by 5:30. Thanks to my smart meter, I discovered I was wasting energy—and money.

►Are there large spikes in usage at specific times of day? Think back on what occurs at that time of day—maybe it's while cooking dinner or drying clothes. If it's at an odd time, with no known usage, this could be a sign that your home equipment (ie heating, cooling or water heating) is starting to fail.

►Do you have large electric spikes in mid-afternoon during Summer? If no one is home at that time, this is a sign you can change the start time on your programmable thermostat so it doesn't begin pre-cooling as early. (Don't have a programmable thermostat? This information might encourage you to install one and save.)


Comments from our Smart Grid Demo participants:

"I think everyone should have a smart meter and the ability to look at their home's energy graphs online."
David B.

"We love the SmartMeter and the data it provides. It has become a challenge in our house to reduce the energy consumption."
David K.

"Electricity use analysis enabled me to pinpoint the time when my air conditioners broke while I was on vacation. It also showed some very unusual power consumption behavior as they were failing."
Terri M.

"This project opened eyes and was very meaningful in that it caused me to look at energy usage/availability/conservation/technology in so many new and exciting ways."
Timothy F.

"Have actually paid attention and modified my actions in regard to the graph and usage monitoring I think this would be beneficial to almost any customer."
Susan S.

"It is the best tool you can offer to help customers to learn and…save money."
Larry H.